The choices of psychedelic stocks available for investors and where to put your money to work in the sector are slim. Some are doing amazing research and others are planning to according to their press releases.
That is certainly changing, and for the better.
A publicly traded company, that has actually been one of the first movers in the psychedelics industry, has quietly been conducting the science. (not just saying they plan to)
Last year in April Wuhan General Group (OTC: $WUHN) announced their move into the psilocybin sector (read full press release).
Wuhan ventured to South Africa – missing the eye of investors.
In Wuhan General Group's (WGG) latest corporate presentation they are lifting the veil for their concluded in vivo and in vitro pre-clinical research with psilocybin and planned phase 1 human trials. Visit https://www.precisionformedicine.com/clinical-trial-services/clinical-trial-design/ to learn more about the usual procedure of clinical trials.
The shares are trading at a massive discount relative to their competition.
It is only a matter of time, before the stock price and valuation catches up.
Potential homeruns like this come don't come often. The potential upside is massive.
More information and link to download the corporate presentation can be found here.
A comment from Dr. Anna, Wuhan's Chief Medical Officer:
---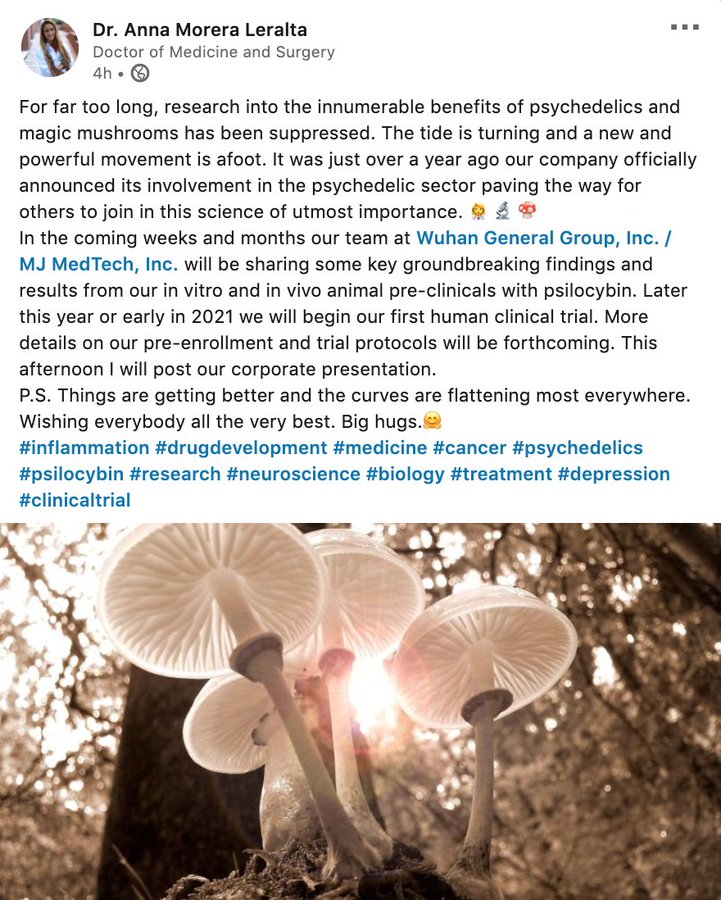 ---
Full Disclosure: Jeff Robinson is the CEO, Dr.Anna Morera Leralta the CMO and Luka Marjanovic is the Head of Product of Wuhan. Please feel free to contact Jeff via email at: jeff@mjmedtech.com.